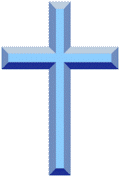 WHAT MAKES A CHRISTIAN DIFFERENT
Here is a fictional story of a woman named Rachel. This story illustrates the main characteristic of a Christian, one whose comfort in life and in death is Jesus. A Christian does not have to have a great conversion story, as this story suggests.
Rachel was born to a Catholic family in a small town in Northern Wisconsin. Rachel was baptized as an infant and grew up going to church every Sunday. As a young child, she went to Catechism class, got confirmed and had her first communion. Rachel spent all of her life in her small town. It was everything she knew. She worked in her father's farm supplies store while going to a small elementary school and then high school.
As a teenager, Rachel was an obedient child, never complaining about anything. She was a hard worker and never had time for anything else. Rachel was not one to explore everything she learned in catechism class. However, despite all the imperfections of her church, the truth about Jesus came through to Rachel. Among the things she learned in catechism, Rachel held most in her heart the teachings about Jesus- that he is to be prayed to, worshipped, followed, and believed. Rachel never really understood or tried to understand everything she heard in church, about Jesus being God and man, about the trinity. Rachel, just like other teenagers her age, struggled with keeping herself sexually pure and her increasing desire to make her own way in life. She sometimes disobeyed her parents and been selfish to her siblings. However, there is always this voice deep down in her soul that says that what she was doing was wrong. Rachel always attributed this voice to the Jesus she encountered as a young child, the Jesus that the church declared to be the son of God.
Rachel did not go beyond high school. After graduating from high school she got married and later had a son and a daughter. Rachel spent her life taking care of her son and daughter and her husband. She was thankful for her son and daughter, whom she saw as gifts from Jesus himself, whom she saw as the source of all the good gifts in her life. Rachel never heard about Billy Graham or any other evangelists. In fact, Rachel never encountered any other religion besides her own. She does not know about testimonies or evangelicalism or the sinner's prayer or "being saved". Rachel never really questioned her church's teachings, feeling that she is incapable of understanding fully what her church is teaching. All she knew deep down in her heart is that she has to follow Jesus, the one her church proclaimed as Lord. She believed that the Jesus she encountered as a young child compels her to be a faithful wife, a faithful mother, a faithful neighbor.
Just like any other person, Rachel encountered grief. Her parents died and her house burned down when she was twelve. She lost everything in one fell swoop. She was grief stricken and angry at God. However, despite her anger and pain, she felt comfort and an inexplicable feeling of hope. Rachel attributed this comfort and hope to the Jesus she encountered as a young child, the Jesus her church proclaimed as the one who loves her in the midst of her sorrows and joys. Rachel later experienced the death of her husband, her best friend and lover. Rachel's husband died after a long battle with cancer. Rachel put her hope in Jesus, the one she believes to be able to heal her husband and show her mercy. She poured out her sorrow at the thought of losing the one who held her at night, who told her "I love you" every single day of their lives together. Her husband did experience a remission but in the end he died. Rachel was disappointed but deep down she again felt the comfort and hope she felt as a young child, and the voice that says, "It will be OK". Rachel attributed this voice to the Jesus she encountered as a young child; the Jesus whom she believes is able to heal her pain.
Finally Rachel got sick and the doctor told her she had two months to live. Rachel was afraid at the prospect of her impending death. She was filled with sadness as she realized that she would not see her grandchildren grow up. However, in the midst of her sadness and fear, there was a still small voice in her heart that tells her "Don't be afraid, you will be with me like I always have been with you". Rachel attributed this voice to Jesus, the one she encountered as a young child, the one her church proclaimed to be the Lord of life. On her deathbed, Rachel radiated joy and hope that impressed the people who took care of her. When they told her son and daughter about this, they answered, "It is because she believed Jesus, he had been her close friend, and she is now with him."
As we think of what makes a Christian a Christian, we get wrapped up in whether somebody apprehends the trinity, whether they say the sinner's prayer, or whether they do the "right" things. Focusing on these may detract us from what really makes a Christian a Christian, relationship with Jesus Christ. I am not saying that doctrine or practice or experience is unimportant. The faith in Jesus required for salvation is a faith that sees Jesus as the revelation of God in human flesh and the doctrines of the trinity and incarnation beautifully proclaim the content of that faith. A Christian acts with Jesus in mind. He may fail to live up to Jesus' standards, and when he sees that he does, he feels a sense of guilt. A Christian sees Jesus in his life story, not necessarily as someone who suddenly invades his life, but as a friend who sticks to her through all the joys and sorrows of her life.
Rachel's story does not look like a 180 degree turn of a "sinner", but a lifelong relationship with Jesus. Rachel was not one to ponder the doctrines of the faith. For some of us, Rachel was not in the "right" denomination. However, Rachel saw Jesus as the foundation of her life- her hope, her joy, her ethics. Rachel is a Christian not because she has a perfect life, has said the "sinner's" prayer, or apprehended the truth perfectly. Rachel is a Christian because she saw the Jesus she encountered as a young child as her comfort in life and in death. There are people who encounter Jesus at a later age but the point is that from that encounter a lifelong relationship is formed.
What makes you a Christian? It is ultimately not because of what you do (practice), your agreement with Christian teachings (doctrine), or because you said the sinner's prayer (experience). The Christian answers this question "What is your only comfort in life and in death?" with this statement:
That I with body and soul, both in life and death, am not my own, but belong unto my faithful Savior Jesus Christ; who, with his precious blood, has fully satisfied for all my sins, and delivered me from all the power of the devil; and so preserves me that without the will of my heavenly Father, not a hair can fall from my head; yea, that all things must be subservient to my salvation, and therefore, by his Holy Spirit, He also assures me of eternal life, and makes me sincerely willing and ready, henceforth, to live unto him. (Heidelberg Catechism Q & A 1)
Christians may falter along the way and make other things (self, wealth, others) their comfort. However, because of God's love, he will always remind them of their true comfort. The Christian begins and remains in relationship with Jesus because of God's work in his heart. In fact, that relationship began before the foundation of the world. Soli Deo Gloria.